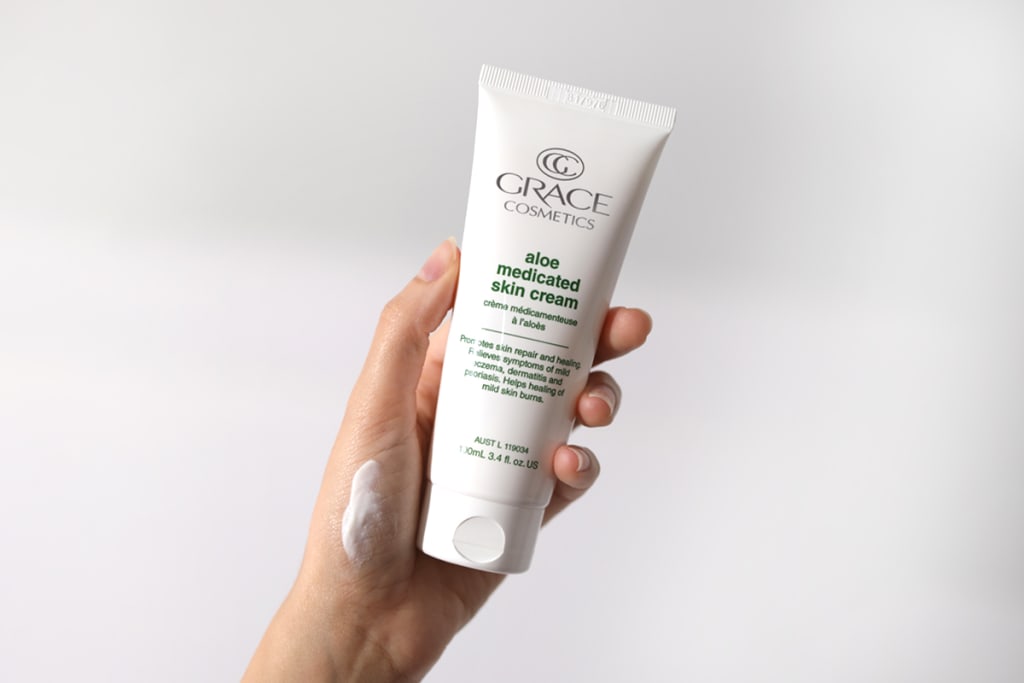 February 16, 2022
The therapeutic products to always have on hand
Along with the usual First-Aid Kit necessities like bandages, gauze and basic pain reliever, our Grace Therapeutic range are products we recommend adding to your First-Aid Kit. They are tried, tested and proven - we swear by them! Even the Australian Therapeutic Goods Administration (the highest governing body for therapeutics like vaccines, medications and vitamins in our country) has approved these products.
From bug bites to burns and muscle aches to cuts and grazes these products have you covered. You will not regret having these all-natural therapeutic products at the ready. A stocked First-Aid Kit, with these products, gives you peace of mind.
Here's our household must-haves:
Aloe Medicated Skin Cream
This cream is rich in medicinal properties for effective relief. It is formulated with natural ingredients sourced from Aloe Vera, Apricot, Coconut and Safflower. The Aloe Medicated Skin Cream has become an essential for many first-aid kits all around the world.
This cream encourages rapid healing and assists in renewing your skin for lasting results. It is proven to provide dramatic relief for:
Eczema, dermatitis and psoriasis
Nappy rash and skin irritations
Fungal infections
Aloe Gel with Manuka Honey
You may already use this product for acne or troubled skin! But this amazing product also doubles as one of our all-star therapeutic products. Aloe Vera is nature's medicine plant, renown for it's cooling, soothing and moisturising properties, providing healthy-looking skin. When combined with Manuka Honey, you have a powerhouse formula to deliver ultimate healing.
Aloe Gel With Manuka Honey's deep penetrative ability makes it fast-acting and highly effective on all skin concerns. This 100% natural and pure healing is a remedy for:
After sun exposure to minimise peeling
Immediate treatment for minor burns
Relief from waxing or shaving rash
Healing of scars
Skin abrasions like cuts and scratches
Bacterial infections
Massage Lotion
This targeted hot & cold therapy is the natural remedy you have been searching for. For those with chronic pain, those who go to the gym regularly, those who are always on their feet or generally have muscular aches, this is the natural solution that will give you solace.
Massage Lotion is a fast-acting heating cream that immediately penetrates affected areas. It provides temporary relief of:
Joint stiffness
Lower back discomfort
Arthritis, rheumatism and fibrositis
Sore and tired feet
Pain associated with headaches when applied to the temples
Menstrual cramps when applied to the lower abdomen and back
Neck and shoulder aches
Aloe Aid Soothing Spray
This Aloe Vera mist is scientifically formulated with organic Aloe Vera and active plant-based ingredients. This therapeutic spray soothes, nourishes and restores your skin. It isn't heavy, so it allows the skin to breathe!
This no touch spray application is great because it limits bacteria from your fingers getting into the affected area. Also, it is the perfect way to apply treatment to kids with wounds. The Aloe Aid Soothing Spray is our go to for:
Immediate treatment for minor burns
Insect Bites
Blisters
Open wounds
Bruises
Featured Products